At Airship Syndicate we love creating unique worlds with interesting characters. In previous games like Darksiders Genesis, Ruined King: A League of Legends Story, and Battle Chasers: Nightwar we set out to put our spin on worlds and characters that you've already seen and visited before. We're incredibly excited to be partnering with Digital Extremes on this adventure as they pioneered the free-to-play space with Warframe.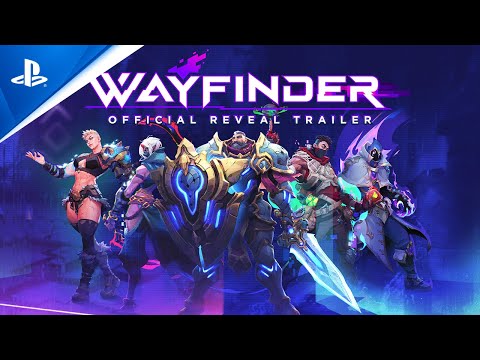 What is Wayfinder

The World of Evenor is shattered. You must harness the power of a Wayfinder to Control the Chaos that has overrun your world. Join forces with friends to strengthen your powers and control your action-packed, endless adventures with vast customization modifiers when exploring the immersive world, collecting and crafting.
Led by the distinct art and style of acclaimed games and comic book artist Joe Madureira, Wayfinder is our take on an online world that encourages exploring, collecting and sharing with friends. You are one of the last champions of a dying world. Thieves and looters fight over the scraps that have been left behind. You are an Echo of a fallen hero, but you have survived the Gloom that is consuming the world and returned with the power to fight it. Along with your fellow Wayfinders, you must use your newfound powers and mystical tech to defend your people. You must venture into the regions lost to the Gloom and chart a path through the darkness.
Control the Chaos
To conquer the Gloom, you must adventure into it in dungeon-like areas called Lost Zones. You will encounter enemies and bosses and gather resources to level up and mod your character, as well as craft that enticing weapon you've had your eye on. 
But you have the power to control and change the Gloom, making each Lost Zone that you enter unique to your play session. Your Gloom Dagger, which every Wayfinder wields, will allow you to Control the Chaos and apply mutators to your hunts and expeditions. You have the power to control what enemies you might encounter and what resources you want to drop… but beware, your choices will also affect modifiers such as enemy health, environmental hazards and more.
Explore and Discover

You will be a busy adventurer in the world of Evenor, as it has plenty to discover such as lore books, side quests, and items to collect. Outside of the Lost Zones, you'll be adventuring through an immersive open world.You'll find other Wayfinders to group up with and tackle side objectives like world bosses, events and more. You will be able to level up your items and gear, hang out with friends, or craft a new weapon and even decorate your own apartment.
Experience Endless Customization

Although our game is a character-based RPG with a powerful and diverse set of characters with histories and relationships with one another, you can customize both in how they look and how they play. Want to take someone like Wingrave, a traditional tanky support role, and equip a long range weapon on him for some big crits? You can! Every Wayfinder can equip every weapon, and you will be able to further customize your playstyle by using mods you find when adventuring. 

We believe in building this game alongside the community and we're incredibly excited to be on this journey with the PlayStation family.
Wayfinder launches in late 2023 as a free-to-play title. Until next time!